Everything you need to connect everyone — all on one platform.
ZAC accelerates business by bringing together voice, messaging, and video conferencing into a single, seamless workspace. Empower employees to work more efficiently and securely from anywhere and leverage our Integrated Contact Center through the very same UI to deliver the ultimate omnichannel customer experience.
Powerful Team Collaboration
Get a communications experience that's consistent across all your devices, from desktop to mobile.
Always Stay Connected With Your Team
ZAC's Group Chat feature is a virtual conference room for collaboration. Teammates can send secure instant messages between each other using the ZAC desktop application, Web ZAC, or MX Mobile. It's an easy-to-use method of communication between teams, regardless of their physical location.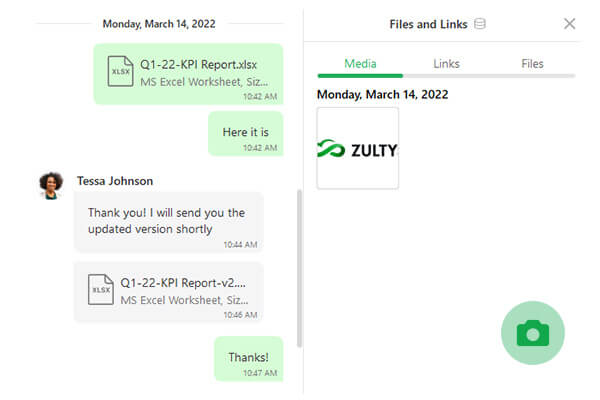 Users can post files and images in ZAC. Utilize this tool to easily share documents and proposals,  keeping your team focused and on task. Create groups of team members and ensure that everyone gets the important information they need at the same time.
With a simple click, any team member can start a conference call, and employees can freely jump on and off the call at their convenience, allowing team members to share ideas and proposals and review tasks, all within one UC solution. 
Multi-Party Video Conferencing
For a more personalized experience, users can host a video call with multiple teammates, bringing remote teams together for increased collaboration. Zultys can enable multi-party video for customers on request as well.
Collaboration Beyond Company Borders
ZAC brings customers and employees together seamlessly.
When you need to bring in contacts outside the organization to work together with your employees, you don't need to launch a separate application for their benefit. You can temporarily enable their access to your ZAC group or start a new chat session with the contact.
You can initiate the process easily and securely with a password-protected link, and the external contact can use any browser to launch a chat session. They can even share their screen, make audio and video calls, and share files. ZAC can be your collaboration hub, not only for internal teams but also for cross-company projects and external customers, providing a deeper level of enhanced customer engagement.
Find out why ZAC is right for you.
ZAC's visual voicemail interface eliminates the time-consuming process of listening to messages in the order they came in. If an employee can tell a message is meant for someone else, it can be sent directly to the correct person immediately. No need to listen to the full recording or navigate a complicated menu. The transferred message will appear in the coworker's voicemail inbox instantly and can even include a quick note from the employee who made the transfer.
ZAC can also send and receive fax messages straight from the application, with no need for an office fax machine. Incoming faxes can be viewed in ZAC or in email and can be transferred to other employees if necessary.
Share Your Files and Your Screen
ZAC can do it all! Share files and your screen with coworkers in ZAC through an easy-to-use secure connection. No separate applications needed.