Unified Communications for an Evolving Workforce
Transform the way you do business.
Businesses today need their employees to stay productive and connected as the workplace evolves, whether they are in the office, working from home, or mobile and on the go. Zultys empowers them to work anywhere, from any device, with anybody.
The Power of Smarter Communications
The integration of communication tools like voice, IM and SMS texting, presence information, video conferencing, data sharing, call control, Integrated Contact Center, mobility, and third-party app integration into one unified solution.
Available as premise-based, virtualized, cloud-hosted, and hybrid deployments to provide users with an all-in-one unified experience.
As today's work environment changes, we're here to support you.
Whether your staff is working completely remote, returning to the office, or turning into a hybrid of both, Zultys' flexible, agile, all-in-one system is the perfect tool to keep your teams connected, from anywhere. Zultys UC, with its deep feature suite, desktop and mobile applications, and scalability, is the perfect communications system for today's fluid workforce.
With Zultys your business has everything it needs to connect, communicate, and collaborate across blended work environments, including integrated desktop phones, computer applications, mobile apps, and a browser-based solution. They all work seamlessly together to drive the exchange of thoughts, improve the speed and quality of decision-making, and keep work flowing.
Must-Have Unified Communications Features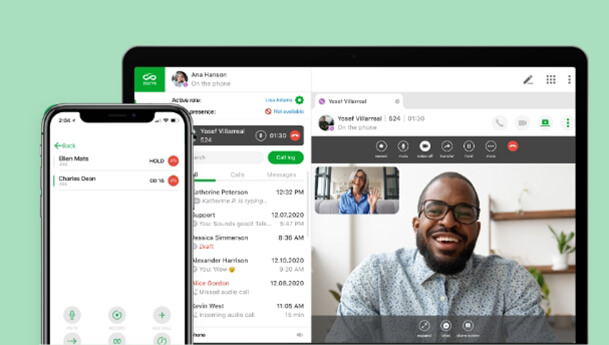 Zultys Advanced Communicator (ZAC) lets your team collaborate from anywhere, on any device, with tools like call center integration, SMS texting, group chat, web conferencing, screen sharing, file sharing, video calling, integrated fax, and more.
Take the power of ZAC with you, wherever you go, with MX Mobile. Talk, messaging and SMS text, file and picture sharing, contacts integration, conference calling, voice mail, and softphone are available at your fingertips on Android and iPhone devices.
Zultys has designed our Integrated Contact Center (ICC) solution to optimize operations, expertly handle customer calls, and increase employee productivity. The ICC comes fully integrated into ZAC, all within a single pane of glass.