The ZIP 49GA Smart Media Phone
Executive-class, feature-rich, and with the power of touch.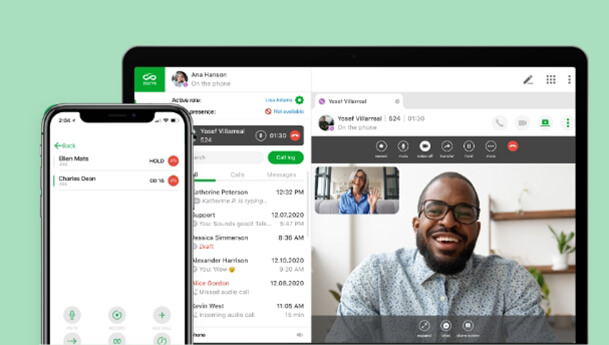 All phones work with ZAC and can be mixed and matched, working seamlessly together to meet your requirements.
Combines productivity enhancing visual communications with the flexibility of the Android operating system.
Delivering an outstanding user experience, with features accessed from a 7-inch touch screen. Functions and contacts may be accessed quickly via 27 programmable soft keys. Optional ZIP 450M Color Expansion Modules can provide more programmable keys. Staff requiring mobility around the office have several options to enable them to continue conversations away from their desk. Zultys offers an optional Bluetooth handset with answer and mute buttons for convenience. Alternatively, users can combine the ZIP 49GA with a compatible wireless headset and EHS4x adapter to utilize Electronic Hook Switch (EHS) controls.
The ZIP 49GA is fully compatible with Zultys' ZAC application, allowing users to manage calls and messages directly from their computer. Like all Zultys phones, the ZIP 49GA utilizes the Session Initiation Protocol (SIP) open standard and is managed from the Zultys MX Administrator application for rapid deployment and one of the industry's lowest total costs of ownership.
See the ZIP 49GA IP Phone and all its features in action.
Key Features and Benefits
Simplified Deployment & SIP Open Standard
The Zultys ZIP 49GA is designed to save your business time and money. Flexible network connectivity, with dual auto-sensing Gigabit Ethernet ports, Power over Ethernet (PoE) support, and integrated Wi-Fi, simplify deployment, provide peace of mind, and ensure investment protection.
HD Video & 7" Touch Screen
Enhance business communications with HD video calls presented on a large 7" hi-resolution touch screen. The Android operating system provides access to a suite of applications including email, calendar, calculator, and web browser. Video and voice calls may be recorded directly on the ZIP 49GA.
Video Door Phone Integration
Comprehensive integration with leading video door phone intercom providers, such as 2N, CyberData, and Baudisch, allows the ZIP 49GA to be utilized with building access control systems, or to act as a video monitoring end point. One-touch door opening may be implemented with supported solutions.
Expansion Module & Wireless Headset
The ZIP 49GA may be combined with up to three ZIP 450M Color Expansion Modules to facilitate up to 180 additional LCD labeled programmable keys, making it ideal for operators and receptionists. Staff requiring mobility around the office will appreciate the convenience of Electronic Hook Switch (EHS) control when the ZIP 49G is combined with a compatible Bluetooth or USB Wireless Headset.
7" 1024×600 Pixel Touch Screen
Optional 2-megapixel HD camera
Built-in Bluetooth and Wi-Fi
Wireless Access Point capability
Optional Bluetooth cordless handset
Dual Gigabit Ethernet Ports
Full Call Control via ZAC
27 Programmable LCD Labeled Keys
Local 3-way Video Conferencing
Local 10-way Voice Conferencing
Support for Compatible Wireless and Wired USB Headsets
Supports ZIP 450M Color Expansion Modules
MX System & LDAP Contact Directories
One-touch Call Record Button with Look Back Capabilities
Displays Caller and Called Line Information
Paging and Intercom Auto-answer
VLAN, DSCP and QOS Support
MXnetwork Redundancy Support
802.3af Power over Ethernet
Hearing Aid Compatible (HAC) Handset
Wall Mountable (optional bracket required)
"*" indicates required fields